Since 2004, Dr. Stanley has dedicated his expertise to developing quality continuing medical education. As a veteran Emergency Physician and previous Regional Medical Director for a physician management group, Dr. Stanley spoke with many physicians, medical professionals, and medical students who did not adequately learn how to interpret ECGs in school and needed a good supplemental resource. After performing his own research, Dr. Stanley realized online courses that made ECGs easily understandable did not exist. Providing quality educational content along with exceptional, personal support remains the primary purpose of ECGcourse.com.
Vernon R. Stanley, MD, PhD received his doctoral degree in Electrical Engineering from the Missouri University of Science and Technology, Rolla, MO and his MD degree from the University of Virginia, Charlottesville, VA. He then went on to invest twenty of his more than thirty years practicing emergency medicine with the Charleston Area Medical Center in Charleston, WV, one of the largest cardiac centers in the country and a Level I Trauma Center.
Academic Positions & Teaching Experience
Dr. Stanley has lectured electrocardiography widely to paramedics, physicians, nurses, physician assistants, nurse practitioners and medical students.
His academic experience includes a fifteen-year nationwide lecture circuit, speaking on electrocardiography to physicians, physician assistants, nurse practitioners, nurse anesthetists, nursing staffs, medical students, emergency first responders, paramedics, and EMTs. He has presented seminars for the National Conference of the American Academy of Physician Assistants New York, NY (1996), Minneapolis, MN (1997), Philadelphia, PA (2007) and San Antonio, TX (2008).  Sponsors of his seminars have included PhysioControl, Marquette Electronics, Genentech, InPhynet and Southeastern Emergency Physicians.
Two years Assistant Professor of Electrical Engineering at the Virginia Military Institute.
Seven years Adjunct Professor of Electrical Engineering at West Virginia University Institute of Technology.
Eight years Adjunct Professor at Mountain State University, Physician Assistant Program.
Eleven years Adjunct Professor at West Virginia School of Osteopathic Medicine
Visiting Lecturer 2009, 2010, 2011 – Drexel University, PA Program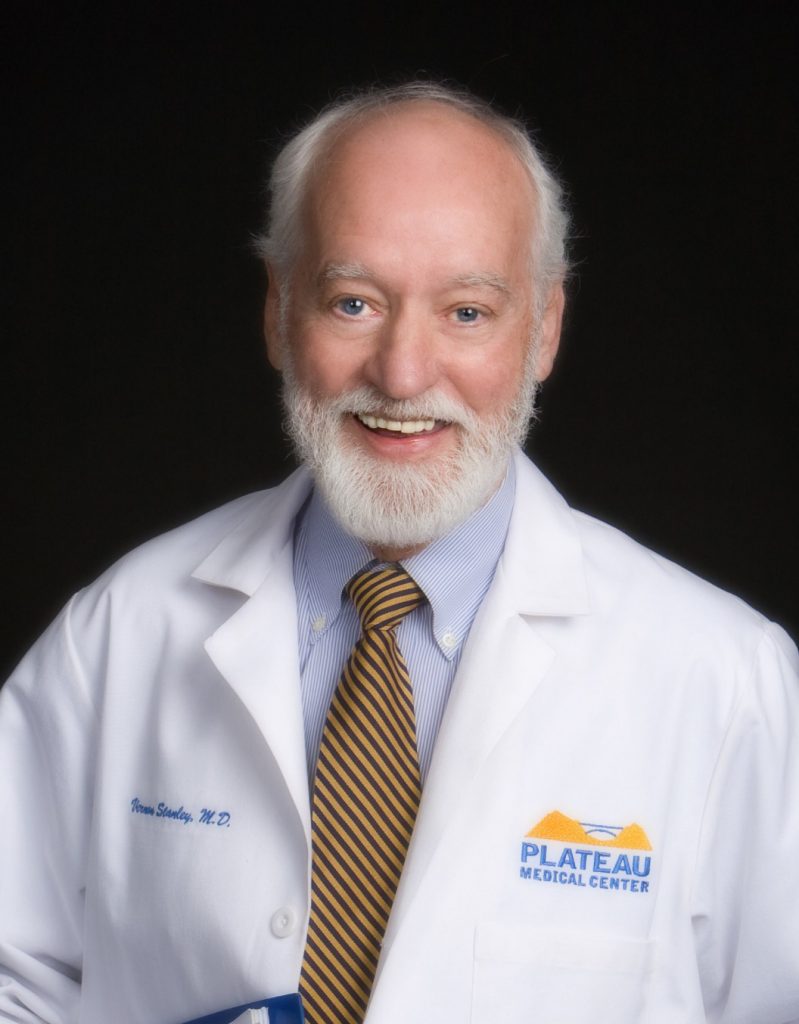 Publications and Pioneering
Online ACLS Prep Course – 2019
Online STEMI Review Course – 2017
ONLINE 50 Case Studies Course — 2008
ONLINE ECG Animated Rhythm Interpretation Course – 2005
12-Lead Workbook for the Medical Practitioner – 1996
Adjunct writer, cardiology section, 1998 Paramedic National Standard Curricula Project.
Emergency Physicians Monthly (Professional journal targeted to 30k ED physicians) Contributing Editor and Editorial Advisory Board — "12-Lead ECG Lesson -of-the- Month" — 2006
ONLINE 52-Week Lesson-of-the-Week – 2006
ONLINE 12-Lead ECG Interpretation Course – 2004
Author of 12-Lead ECG Interpretation for Emergency Personnel – 1995
Pioneer of the first pre-hospital 12-lead ECG cellular-to-hospital system West Virginia.
" Well organized and flexible, it has been a fresh and fast review. I will look forward to…the Tracing of the Week and all…further activities that Dr. Stanley …[has to] share with us online. Thanks very much, Dr. Stanley…"
" I found this online course truly helpful…the animations showing the electrical and mechanical activity side-by-side with the rhythm strip was key to this greater understanding…being a visual learner, this was an excellent learning tool!"
"Absolutely the best presentation of cardiac rhythms I have seen. The animated portion of the rhythms beautifully ties what is occuring in the heart to the ECG tracing. The course was comprehensive and clinically relevant. Bravo Dr. Stanley!"
"I have been thinking about contacting you for a while to tell you how much I enjoyed your Online Rhythm Course. After taking your course I was able to get a new job as a telemetry monitor with a nice pay increase."
"The experience of this ECG course is wonderful! I have gained so much knowledge on rhythm recognition. I strongly recommend this online course to be used as an annual refresher course for all monitor techs in my department."